Steps for Dry-Erase Board Care and Maintenance
Erase. Clean. Dry. It's that simple! With these three easy steps your board will remain clear, clean, and reliable for years to come.
We'll walk you through the cleaning process to help keep your board streak and stain-free.
You can also print off our step-by-step guide here.
Before You Start: Collect Your Supplies
Gather all necessary materials to help you prepare for the cleaning. We recommend using:
A Quartet eraser
Quartet board cleaner
2 dry towels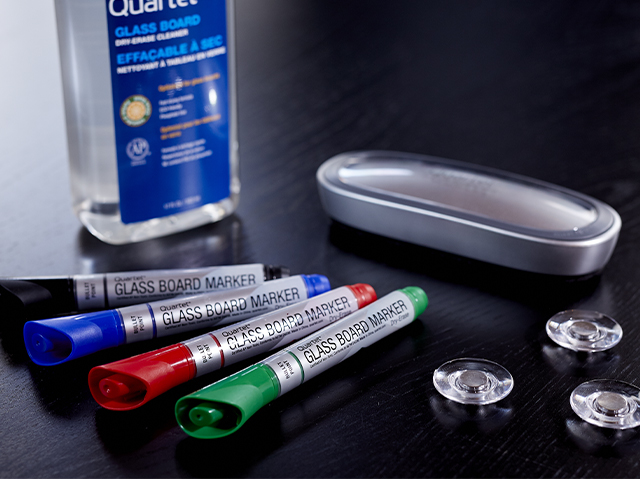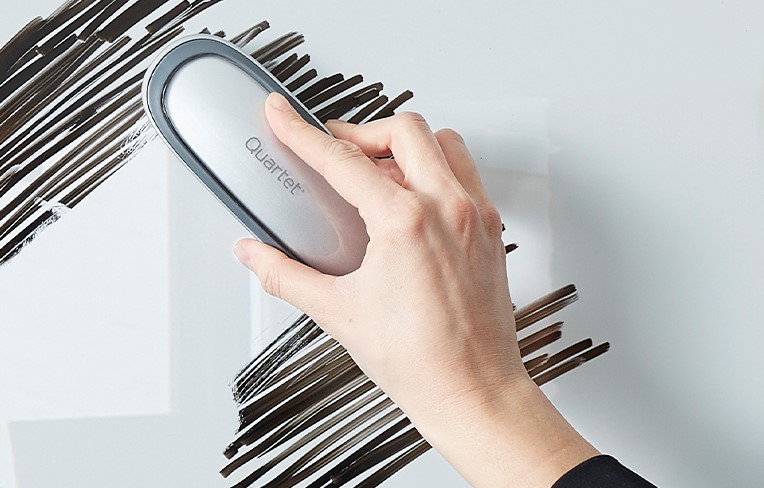 Step 1: Clear and Erase Writing
Erase the entire board surface using your eraser.
Eliminating excess dry-ink dust is an essential step when cleaning your dry-erase board. Whether you have a glass dry-erase board or whiteboard, you will need to completely erase your board to achieve a truly clean and clear surface.
For Whiteboards
The porous surface of whiteboards can hold dry-ink dust deep below the visible surface. By erasing thoroughly, you are able to loosen that dust, which makes it much easier to lift dust with the cleaning solution. For best results, use a Quartet Eraser.
For Glass Boards
It's important to make sure the glass surface is fully cleared of ink dust. This helps make future board use and cleaning easier. We recommend using a Quartet Glass Board Eraser.
Step 2: Apply Cleaning Solution
Spray the cleaner evenly across the board surface.
Quartet cleaning sprays are formulated to help dry-erase surfaces resist ghosting or staining during regular use. It easily lifts dry-ink dust and dirt from the surface of the board.
For Whiteboards:
Standard cleaner is suitable for all board types, including porcelain, melamine and painted steel marker boards. It helps pull dry-ink dust from porous surfaces to prevent board staining. We recommend trying our Whiteboard Eco Cleaner formula, which we've found to be the most effective at lifting dust from the surface.
For Glass Boards:
We don't recommend using standard cleaners on glass boards. Our Glass Board Eco Cleaner has a vinegar-based formulation that helps reduce streaking and effortlessly removes dry-erase ink, dust and dirt from glass. This fast-drying solution is critical to preventing marker ink stains and helps make future cleanings easier.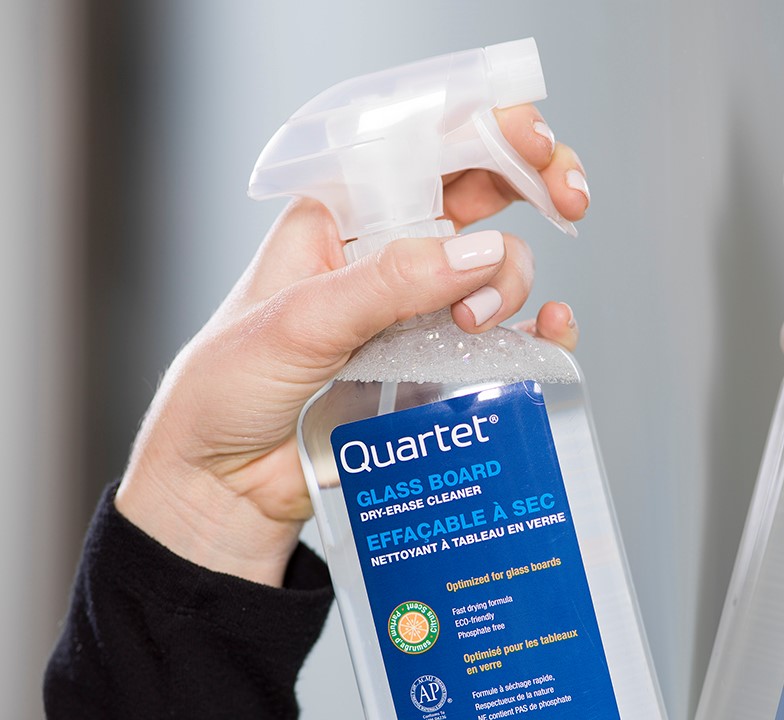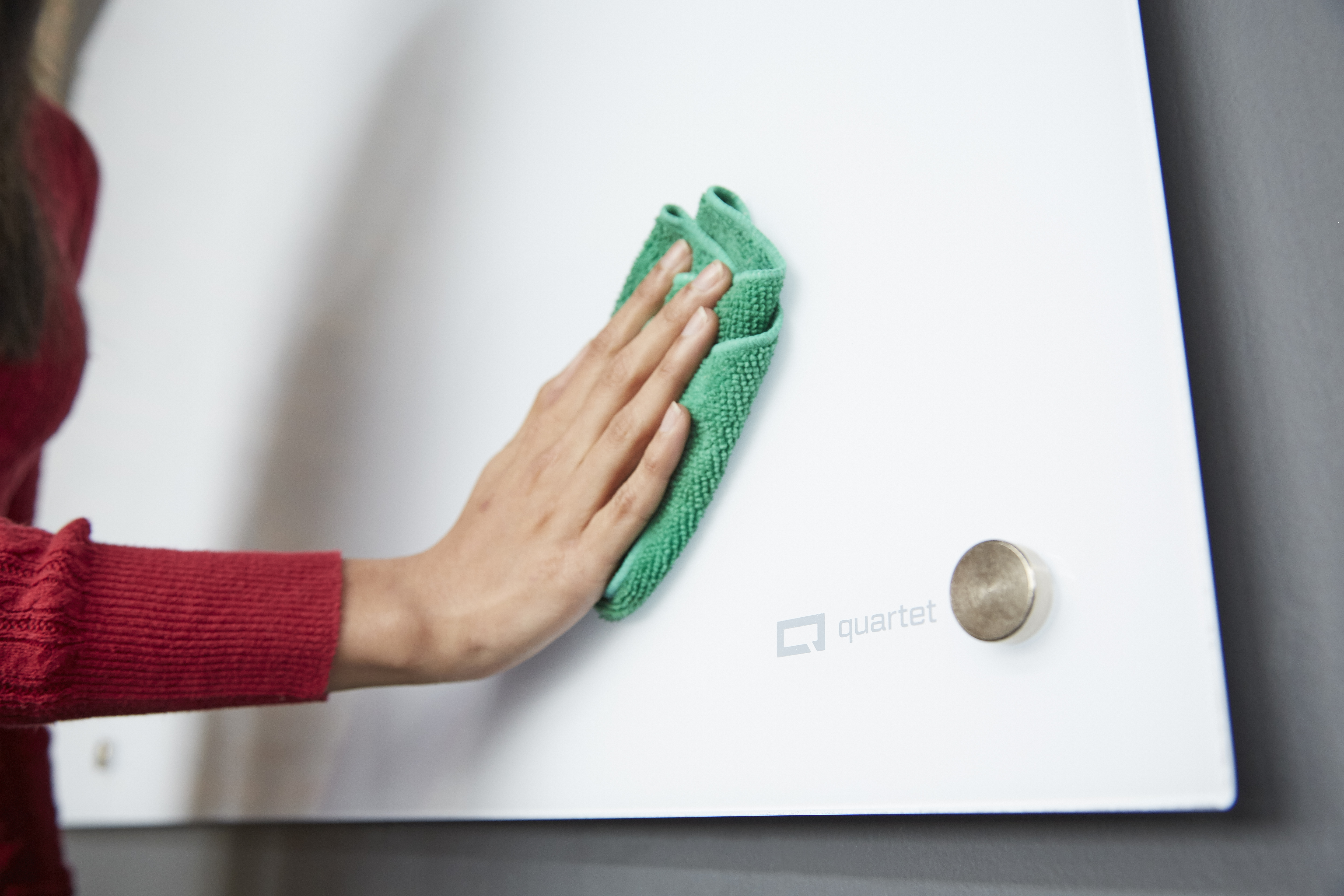 Step 3: Dry Thoroughly
Grab the first dry towel and wipe the cleaner off of the board surface.
Take the second towel and go over the board surface again to ensure that it is clear of all cleaning solution.
If the solution isn't properly dried off of the board surface, the marker ink and the solution can combine during the next use. This can make it more difficult to erase your board during future cleanings.
Additional Cleaning Tips and Tricks
Always erase marker ink from the surface after each use. This will help prevent stains and ghosting.
Cap all markers tightly. Fresh marker ink is easier to erase from the board's surface.
Monitor your erasers for residue. After many uses, erasers can start to spread residue across the surface of the board. You can do one of two things when this occurs:

Wash the microfiber cloth of the eraser with water to eliminate residue. Let stand and dry before further use.
Replace your eraser with a new one by browsing our wide variety of eraser options, which are optimized for all surfaces and sizes of boards.
You can find even more cleaning tips by visiting the Quartet Blog!