Father's Day Gift Ideas by Quartet
Thoughtful, Creative Father's Day Gifts for Home or Office
Fathers are famous for bad fashion, embarrassing moments, and dumb jokes. But father figures are so important in the lives of kids, teens, and even adults. That strong, sweet male influence that holds you up with support, makes you feel accountable and teaches you responsibility, and probably makes you laugh at the same time, gets his own day.
This Father's Day honor the father figure in your life with a gift he will appreciate and actually use every day. It can be tough to find a creative gift for a dad. Here, we give you a range of thoughtful Father's Day gift ideas that any dad will love.
Fathers Need Comfort Too
Many people work for hours without proper ergonomics. Especially as people headed home to work, they didn't necessarily set up their workspaces properly. Bad ergonomics can affect neck, wrist, back, and shoulder pain, create headaches and eye strain, and all types of muscular pain and injury.
If your father spends any time at a desk, at home or at work (or even working from home), help him to set up his workspace ergonomically.
First be sure that his feet are flat on the floor when sitting in his desk chair.
His thighs should be parallel to the floor (use a small footrest if necessary).
His arms should be at a 90-degree angle, so his wrists are not lower or higher than his elbows.
The top of his computer screen should be at eye level, so that focus can be 4 inches or so below eye level.
Additionally, the screen should be 24-25 inches from his eyes.
These three gifts can help to make his workspace more comfortable.
Quartet Glass Chair Mat
This classic Quartet Glass Chair Mat allows dad to smoothly shift, turn, or roll his chair as he works. The mat helps prevent scratches and wear from damaging the floor, and the premium tempered glass is transparent.
This mat comes in two sizes, 36" x 48" and 48" x 60", has rubber feet to keep it in place, and the pencil edges allow him to roll on and off the mat easily. This durable, practical gift can support up to 1,000 lbs., and comes with a 10-year warranty.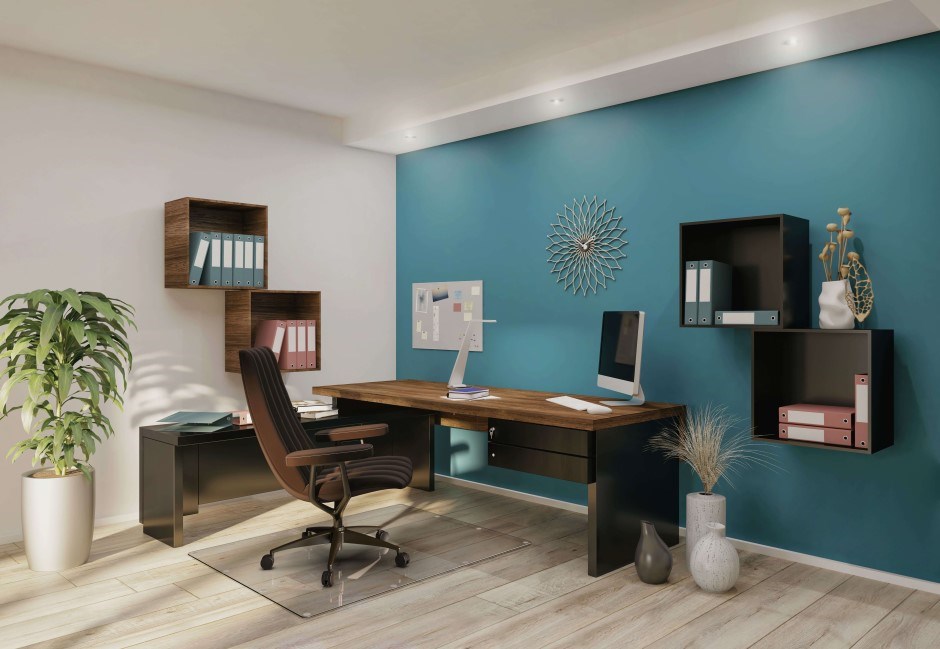 Quartet Adjustable Height Desktop Glass Monitor Riser with Dry-Erase Board
This monitor riser can put the monitor exactly where he needs it for the most comfortable work position. Simply adjust the riser legs to raise his laptop or monitor to eye-level. The riser surface is made of 6 mm tempered glass and measures 10 1/4" x 14". The sturdy, non-skid legs support up to 100 lbs.
Additionally, the 5" x 10" built-in retractable glass dry-erase board helps to declutter his work area. He can keep notes in view while he works and hide them when he is finished. The elegant glass board will not stain or ghost because the surface erases completely every time.
This great gift comes with an accessory tray, one dry-erase marker, and a 5-year warranty.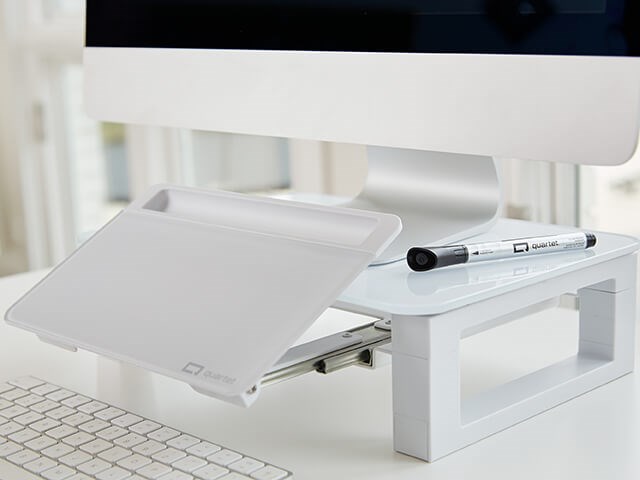 Quartet Glass Desktop Overlay
This glass board lies flat on dad's desk, providing clean organization. The average desk has 800 bacteria per square inch, and this flat glass board gives your dad a private clean zone. It can be used like a whiteboard to jot down appointments, meeting notes, and a place to share his visions and ideas. The board wipes completely clean every time with no ghosting. He can also use a non-abrasive sanitizer or soap to ensure cleanliness of his workspace.
This desktop glass board is made of tempered glass and is engineered for durability and heavy use. It supports 100 lbs., so that he can safely use the monitor riser, monitor, keyboards, laptops, etc. The glass board sits on top of the desk perched on rubber feet to securely hold the glass in place.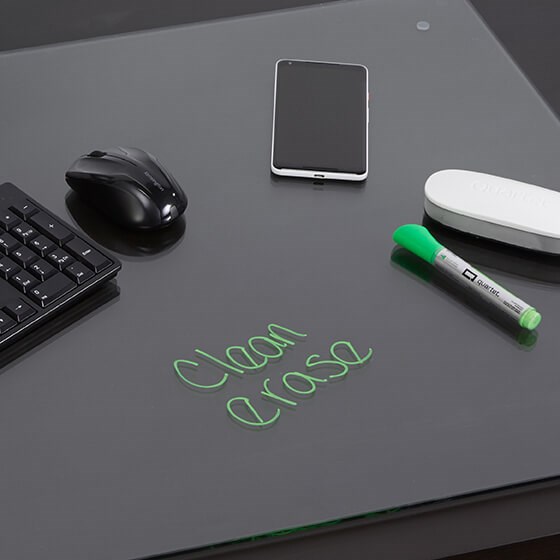 Quartet Glass Dry-Erase Computer Pad
This dry-erase desktop computer pad comes in plain white and sits between the keyboard and monitor. It maximizes desk space and provides a convenient place to jot down notes. The surface is angled so that dad can write on it comfortably, and the board wipes clean every time without staining. A hidden pull-out drawer stores marker (one is included) and other accessories.
For a limited time only, you can save with this Desktop Panel and Computer Pad Bundle!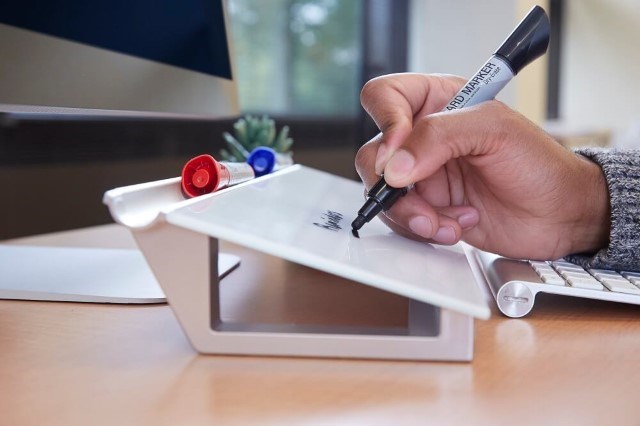 Small Boards for Quick Notes
Fathers are notorious for being forgetful. Here are two small boards to help him take notes and keep them close. With either of these boards, he will be prepared to jot down lists, goals, ideas, reminders, and more. They erase completely, so he can use them over and over. He won't lose a grocery list or a great inspirational idea with one of these boards at hand.
Quartet Portable Glass Dry-Erase Pad
The Portable Glass Dry-Erase Pad can go everywhere with dad. This unique gift opens and closes like a notebook, so he can easily take his notes and reminders wherever he goes. The durable, black cover and bungee closure keeps the pad protected, while the foam pad inside the cover keeps the notes intact.
Like all Quartet boards, the thick, tempered glass is non-porous, will not stain or ghost, and is engineered for years of use. Additionally, the board is fitted with elastic bands on the front cover which hold markers and accessories, and a magnetic kickstand allows him to stand the pad when necessary. This Portable Glass Dry-Erase Pad comes with one dry-erase marker.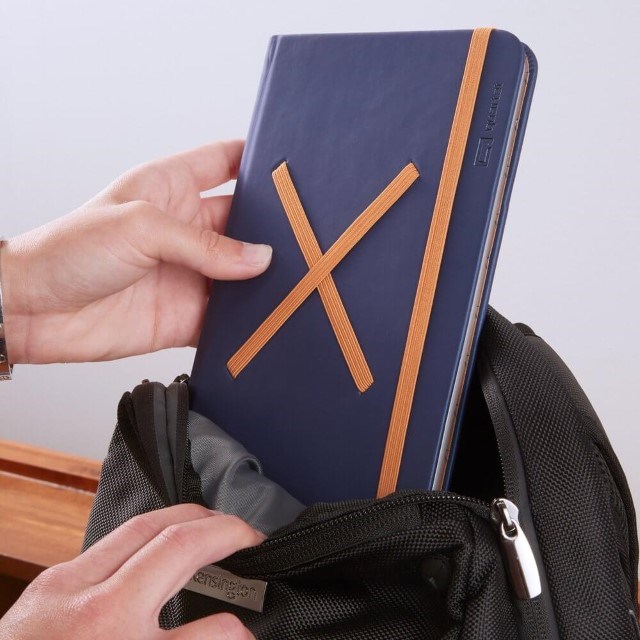 Quartet Glass Dry-Erase Easel
The Quartet Dry-Erase Easel can sit by his desk, or in another spot where he spends a lot of time. He can jot down TO-DOs, goals, his schedule, daily inspiration, notes, or any other important information.
The easel collapses for a comfortable angled writing surface, and the glass resists scratches and is engineered for heavy use. It erases completely, so he can use it over and over again without staining or ghosting. It also features a clip to hold a page in place if necessary. The secret storage slot can store sticky notes and the easel comes with one dry-erase marker.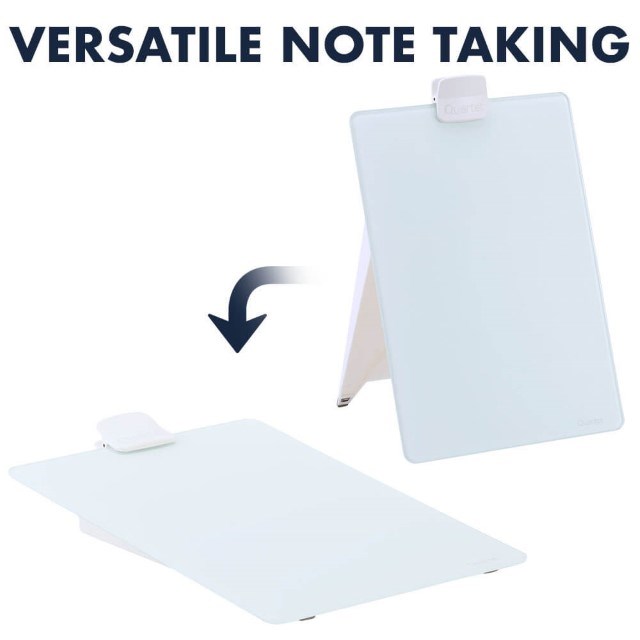 Gifts for Big Ideas
These three office gifts for Father's Day, are stunning larger glass boards. These help him to keep track of all the things going on in his life, as well as capture and communicate big ideas. 
Quartet Brilliance Glass Dry-Erase Board
This board is named "Brilliance" because its clarity is stunning. His ideas really stand out on the vivid white surface. This board makes handwriting clear, and is a great canvas for brainstorming, keeping projects and schedules on track, and more. The smallest Brilliance board is 24" x 18" and our largest is 96" x 48". 
This board is made with high-quality tempered glass which resists scratches and dents, and is non-absorbent, so it erases without staining or ghosting. It is engineered to last for years and comes with a 25-year limited warranty. The board is magnetic and is compatible with high-powered magnets.
The board installs easily and comes with an accessory tray, one Quartet dry-erase marker, and two high-powered magnets.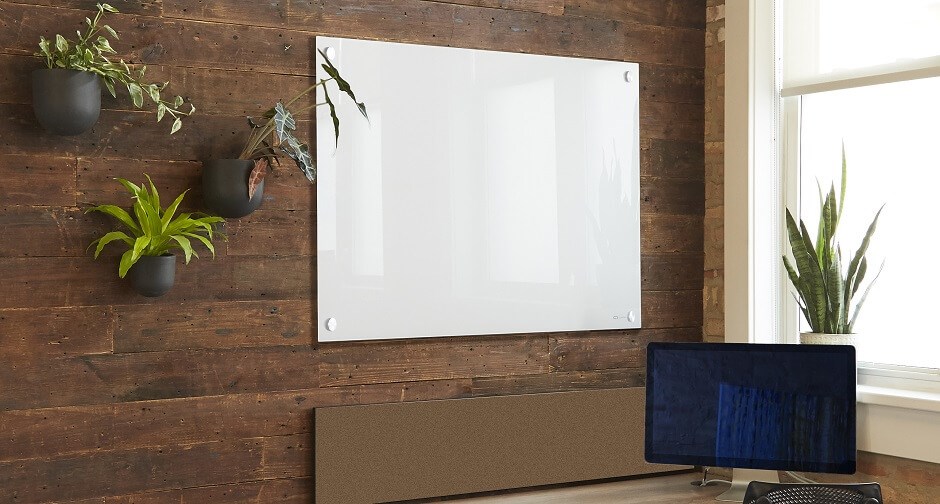 Quartet InvisaMount Magnetic Black Glass Dry-Erase Board
This sharp-looking board appears to float on the wall, due to the invisible mounting. His office or home workspace will never be the same after this board is installed. A spotless surface allows the white and brightly colored Quartet markers to pop off the black surface. The non-absorbent glass allows him to write, erase, and rewrite on a perfectly clean surface every time. 
This board is multifunctional, as it's also magnetic, so dad can hang papers with the included high-power magnets.
The board comes with:
an accessory tray,
one marker;
two high-power magnets;
a limited 20-year warranty; and is engineered for long-term performance.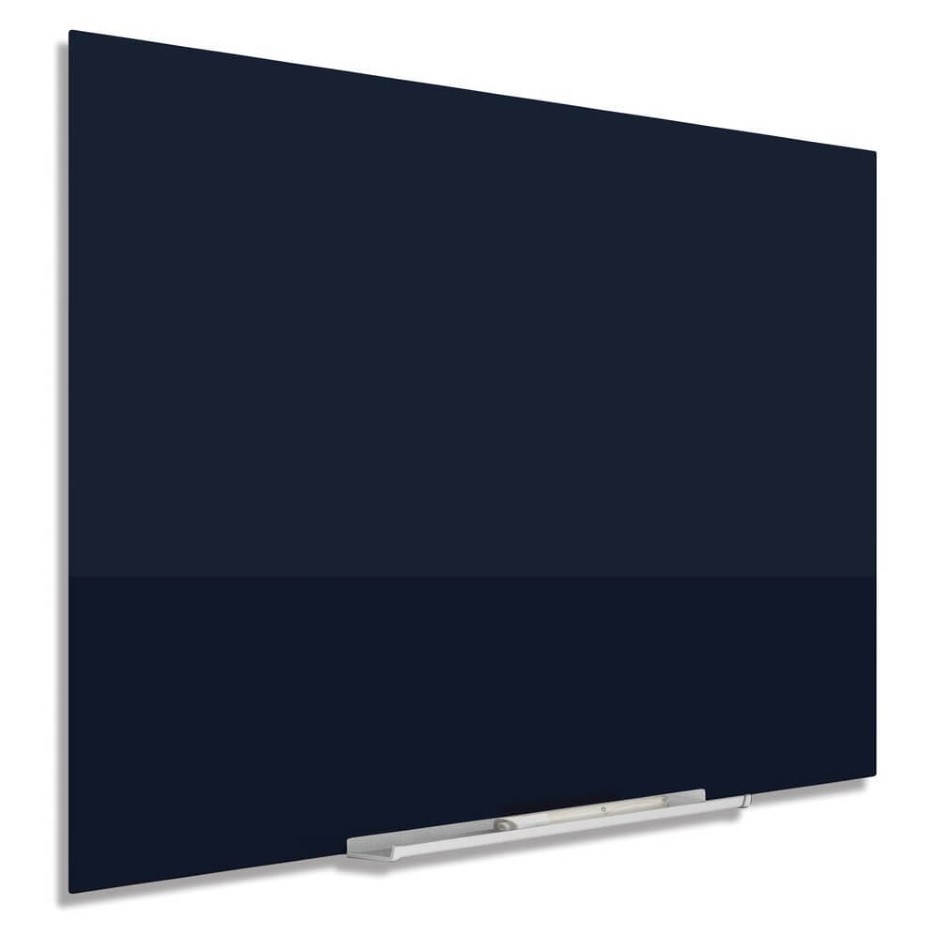 Quartet Infinity Black Glass Magnetic Dry-Erase Board
Dad can brainstorm with a team, write his bucket list, or keep his best ideas and goals on this big magnetic glass board. This sleek black board is also designed for long-term performance and heavy use. It is easy-to-erase and won't ghost or streak.
Made from tempered glass, which is ten times stronger than normal glass, this board is also magnetic and requires the use of high-powered magnets. Quartet magnets are powerful enough to attach to the steel behind the thick glass board.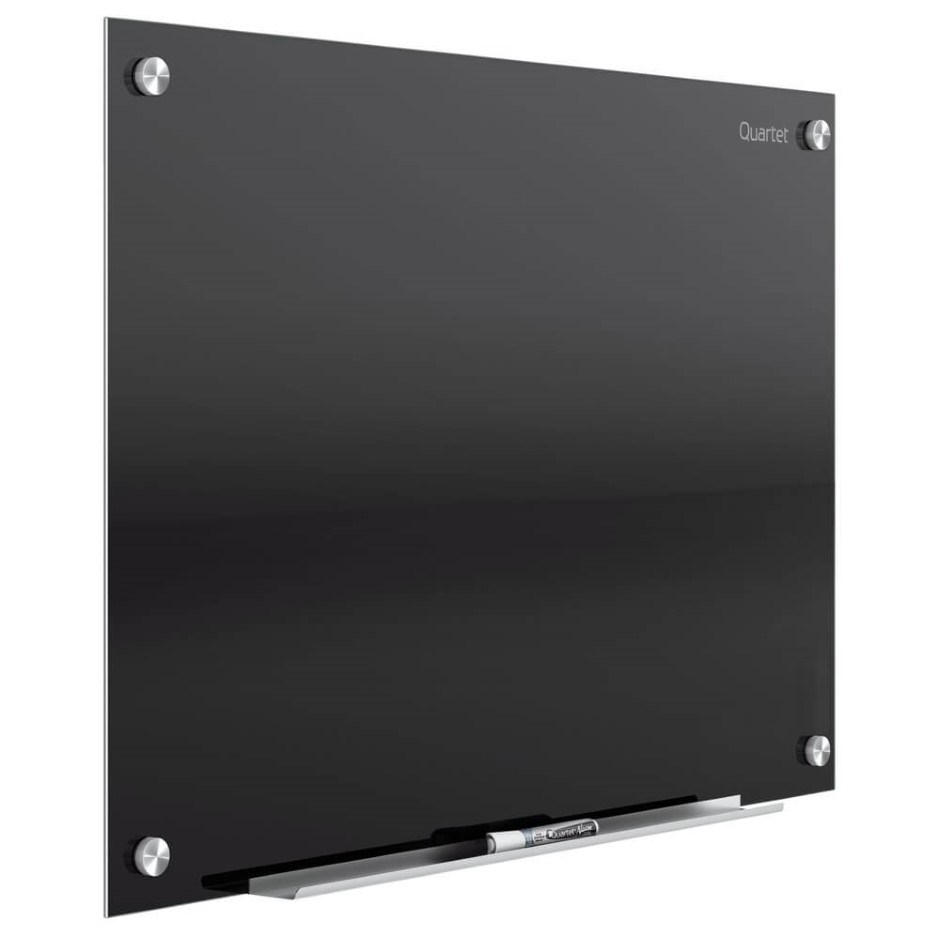 Great Accessories for A Great New Board
Be sure Dad has everything he needs to make the most of his new glass board. Quartet Glass Board Dry-Erase Markers make each message distinct, while the Glass Board Magnetic Eraser quickly erases the writing. He will need high-powered magnets to use with his new magnetic glass board, should you choose that gift option.
Quartet Glass Dry-Erase Board Magnets
These powerful magnets are made for use with our magnetic glass boards and are especially strong to hold up to 6 sheets of paper even through the tempered glass. The bright white will pop off of the black board, and the ½" circular shape gives the board some extra style.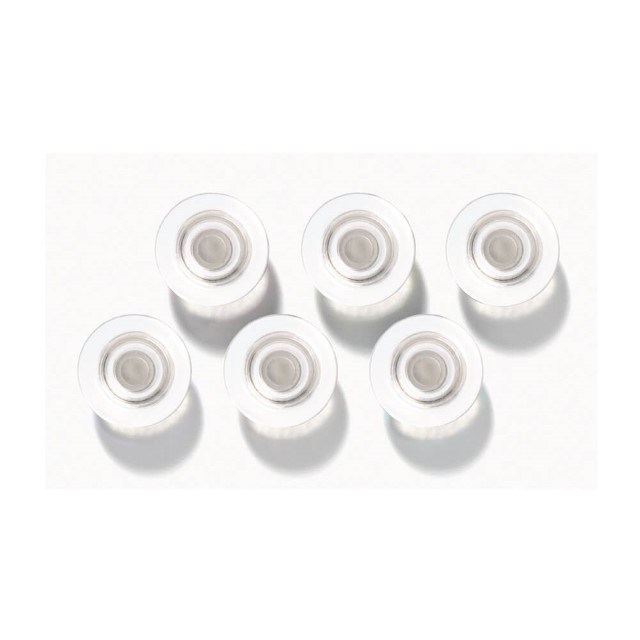 Quartet Premium Magnetic 3-in-1 Glass Board Eraser, Silver
This is an amazing eraser and will keep the board looking great year after year. The felt pad reverses for a fresh cleaning surface, while a 3rd microfiber surface gives his board an occasional deep clean. The unique shape makes it easy to erase deep in the corners, as well as erasing just a small spot when necessary.
The eraser is 6 ½" long, and it is magnetic, so he can store it right on the board's surface.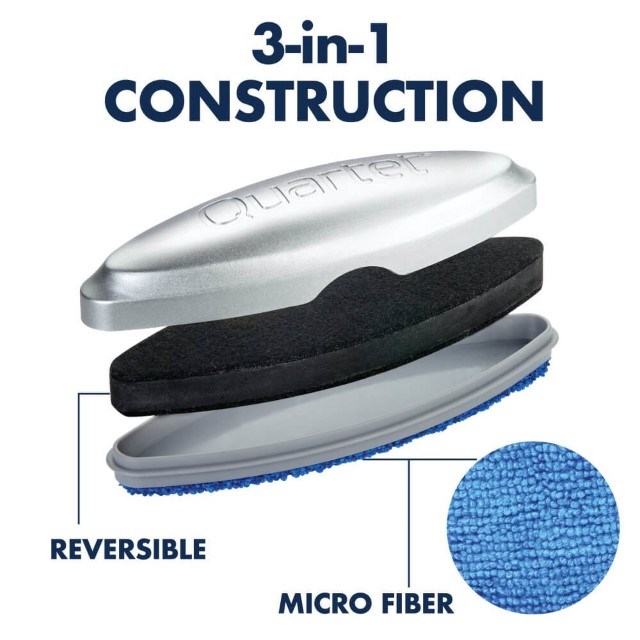 Quartet Premium Glass Board Dry-Erase Markers
Our premium glass dry-erase markers feature bold color and are the best choice on contemporary glass boards. They deliver unmatched color with their free-flowing liquid ink system, which helps colors stay vivid and bright for the lifetime of the marker.
The smooth ink erases easily, and there won't be the hassle of caked-on ink.
Quartet Premium Glass Board Dry-Erase Markers, Bullet Tip, Neon Colors, 6 Pack
Thick lines make writing more easily seen and read by others. The bullet point dry-erase marker is designed to create broad strokes that clearly convey messages, and these come in bright white and neon colors that are perfect for use on dark glass boards.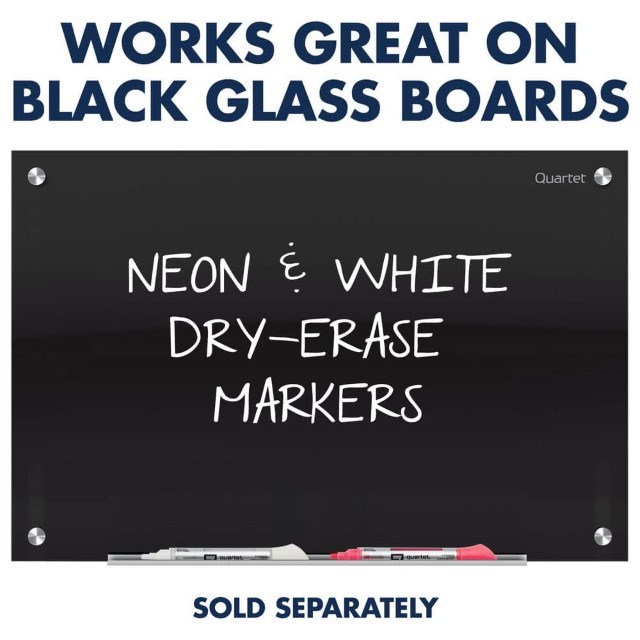 Quartet Premium Glass Board Dry-Erase Markers, Fine Tip, Assorted Colors, 4 pack
Dad can create precise lines with these fine point tip markers. Thin lines are great for a variety of projects. Whether used for clear, distinct handwriting or vivid, detailed drawings, the fine point will help express his messages. This classic assortment contains black, blue, red, and green.
You Can Feel Confident in the Safety of Our Boards
We take pride in providing durable, reliable products that help create cleaner environments. Many everyday household items like flooring, paint and even some new clothing, give off invisible chemicals called volatile organic compounds, or VOCs. Our glass boards recently achieved UL's GREENGUARD Gold certification for fewer chemical emissions, so look for this certification mark when shopping for glass boards.
Use This List of Father's Day Gift Ideas  
Dad will love that he has a new glass board to suit his lifestyle and makes every day better. From big ideas, to making him more comfortable, to a way to keep reminders and notes handy, Quartet has a great board for dads working at home, the office, and anywhere in between.
He deserves a gift that works as hard as he does.
Please share! What Father's Day gifts did you choose? Be sure to share this post with your friends who might enjoy some Father's Day gift ideas.