When dry-erase boards first hit the market, they were quite different than the choices available now. Old whiteboards would often smear and did not always completely erase. Through years of innovation, they've come a long way. The only difficult part is choosing among many great options. In order to keep their lives organized and stress-free, many people have multiple boards in different areas of their lives.
Our expertise in dry-erase and glass boards has allowed us to expand our glass line to fit the needs of many customers. Deciding between boards can be challenging, so we've created a breakdown of each to show the distinct similarities and differences. This will help you make an informed decision leaving you excited about your new glass dry-erase board!
Boards Inspire Creativity and Innovative Thinking
Many people can benefit from using a dry-erase board. Families, work teams, students and teachers, meeting leaders, scientists, community group members, small businesses, theater managers, and healthcare workers, and anyone working from home or in an office, are just a few examples of people who will benefit from having a place to literally visualize communication.
Glass boards are great places to:
Brainstorm with your work team;
Outline meeting agendas and add action items; 
Keep your work team's project list visible;
List topics for the next exam;
Teach something visually;
Vote on a new pet's name or a family vacation;
Write songs and poetry;
Keep your family's calendar in full view, so everyone is on the same page;
List TO-DOs or family chores;
Post audition dates; and the list goes on and on.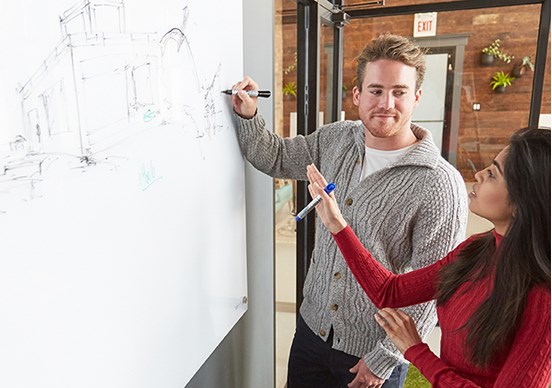 The Types of Dry-Erase Boards are Overwhelming. How do you choose? 
Whether you're visiting a store or shopping online, deciding what kind of board you need for your office, school, or home can be overwhelming. There are various things to consider: size, shape, type of surface, frame style, and price points.
There are many choices, but one will be the perfect board for your situation.
As experts in the field since 1954, we can shine a light on the subject and provide some clarity on all the things you should consider before purchasing your board.
For example:
How often will the board be used?
Will it be used by many people?
Will it hang in a high-traffic area?
Do you want to use magnets on your board?
How large do you need the board to be?
Have you considered a desktop board as well?
What is the board's purpose?
What style frame would you like, or would a frameless, floating style suit your needs?
Glass Dry-Erase Board Surfaces Explained
 Dry-erase boards are made of either melamine, painted steel, porcelain, or glass. Read our blog that explains the difference between whiteboard surfaces for more information. For our purposes here, we will focus on Quartet's glass boards.
With our commitment to innovation and engineering, Quartet offers many glass board surfaces. The designs have been refined to give customers more options, and here we will dive deeper into our three best-selling glass board surfaces.
While our boards have features that set them apart, also have some qualities in common Each board's advanced design and construction delivers a great writing experience.
Infinity, Brilliance, and InvisaMount Glass Boards all share:
Tempered glass: Tempered glass is put through a process of extreme heating and then quick cooling. This makes the glass much more durable and harder than regular glass, which is why it's used for car windshields.
A non-absorbent surface: You may have had an experience with a board where you keep erasing, but you could still see the writing you tried to erase. Because all Quartet glass boards have non-absorbent surfaces, you will never have that problem. The glass is easy to erase and won't stain or ghost. You will write on a clean surface every time.
Durability: The tempered glass and innovative construction provide long-term heavy use. The glass also resists scratches and dents and will look new for years to come, whether it's used in the office or at home.
Compatibility with high-powered magnets: A high-powered magnet is also referred to as a rare earth magnet. These magnets are stronger than regular magnets due to the rare earth element they are made from, versus a regular magnet which is typically made from iron oxide and other components. Because the magnet needs to adhere to the steel behind the thick glass, a high-powered magnet is the best to use with the Infinity, Brilliance, and InvisaMount Magnetic Dry-Erase Glass Boards.
Frameless design: Sleek and clean, a frameless glass whiteboard appears to float on the wall, which makes a modern statement, but its aesthetic fits into any design and décor in your home or office.
Each Glass Dry-Erase Board is Special! Check Out the Differences.
The Infinity Glass Board is a great choice if you want a durable board in a standard style that mounts on your wall. The price point is the lowest of the three and is a great value for a board with clarity that can be mounted either vertically or horizontally. This type of board is very popular among business professionals and business owners.
The Infinity board comes with several choices:
Glass color: white, frosted, or black;
Magnetized or not magnetized; and
Size.
You can also purchase additional mounting hardware in a different metallic color.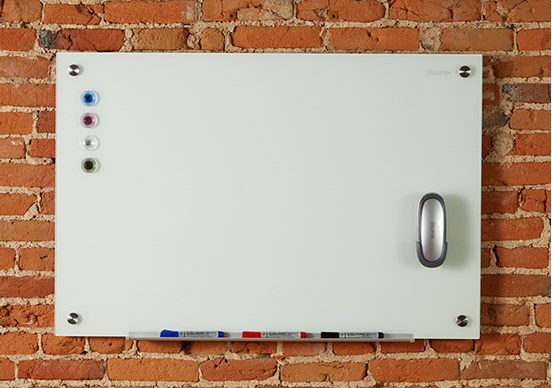 The Brilliance Glass Board is famous for its high-contrast, bright white glass. The surface is a vivid white you must see to believe. Handwriting is clear and distinct on this board, literally popping off the surface. The price of this amazing board is a bit more than the Infinity surface, due to the composition of the glass.
Every Brilliance Board may be vertically or horizontally mounted and is magnetized for use with high-powered magnets. You choose the size and you can also purchase additional mounting hardware in a different metallic color.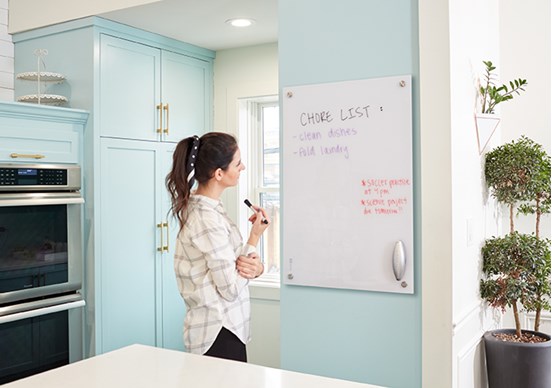 The InvisaMount Glass Board is our top-end board, and appears to float on your wall. Created for long-term heavy use, the board has invisible mounting hardware which gives you an uninterrupted surface from edge to edge.
Constructed with our superior tempered glass, this board is perfect for anyone whose aesthetic is sleek and modern.
You choose:
The color (black or white); and
The size.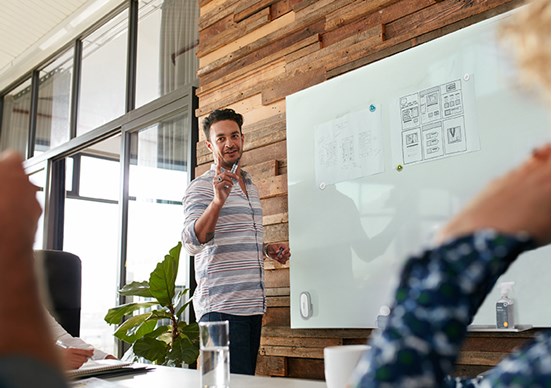 So…Which Board is Right for You?
Armed with more information, which glass surface is right for your situation?
Is one a better fit for your work or school needs, and another for keeping your family on track? 
A glass dry-erase board can make a big difference in productivity, creativity, work/life balance, and stress reduction. How do you use yours?
Please share with us which one you choose, and what tipped the scales for you.
Share this post with anyone who may benefit from the information.
There are so many choices in board surfaces, it always helps to have information. We are happy to provide anything you need to make an informed decision that will have you excited about your new glass board!
Shop our Glass Dry-Erase Boards now: