Whoever the mother figure is in your life, Mother's Day is a great time to honor her and all she has done for you. Let's face it, mothers do it all.
A mother is a: chauffeur, (or mUber), chef, nurse, therapist, house manager, maid and laundry service, finder of lost objects, personal shopper, gardener, project saver, I-forgot-my-lunch/project/cleats rescuer, veterinarian, monster and bug chaser, and the list goes on and on.
It's hard to find the right Mother's Day gift for someone who has done so much. Often, we count on the traditional gifts of flowers and perfume, which are lovely, but consider something new this year.
Thoughtful Gifts Require Empathy and Creativity
The best gifts are those that take into consideration the recipient's lifestyle, activities, hobbies, and more. By putting yourself into her shoes, you take a moment to empathize with the types of gifts that she will really appreciate in her daily life. There is nothing better than getting a gift that makes you realize that the gift giver gave some real thought to your lifestyle.
Here, we offer suggestions for thoughtful Mother's Day gifts, and they are all suited to different activities and lifestyles.
Mother's Day Gifts for Her Ideas, Notes, and Reminders
She can elevate her space and be prepared to jot down lists, goals, ideas, reminders and more with these premium glass dry-erase notepads. Environmentally friendly, she will just erase and reuse it over and over, thinking about you every time, of course. With these gifts she will be prepared to write whenever inspiration strikes.
This two-pack of glass dry-erase notepads include one small plain whiteboard as well as one with a delicate floral design. They are both 9" x 6,"small enough to fit neatly on a desktop or counter for quick note taking. The pads lie flat and won't slip while she writes, because the anti-skid feet keep them in place.
The non-absorbent surface is easy to erase and will not stain or ghost, so she can write on a clean service every time.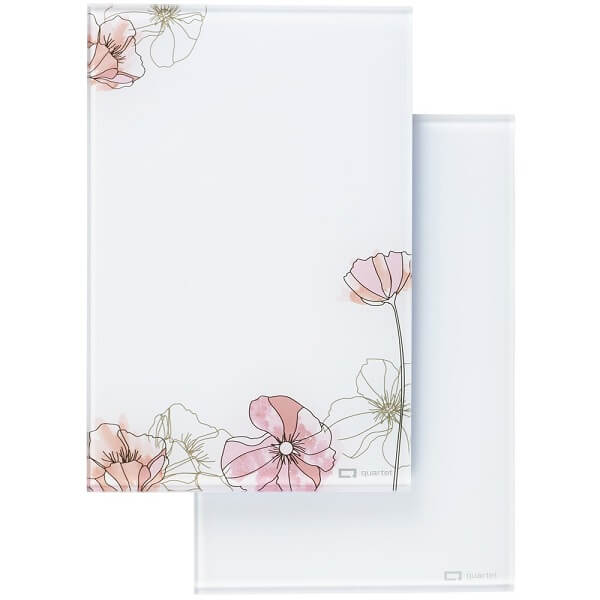 Our dry-erase desktop computer pad comes in plain white, and this elegant floral design. It will maximize her desk space, as it sits between her keyboard and her monitor. She can create a more fun and modern workspace, while comfortably writing on the angled surface. The board wipes clean every time without staining, and the secret pull-out drawer stores markers (one is included) and other accessories.
For the mom on the go, the Portable Glass Dry-Erase Pad fits perfectly in a bag or purse. This unique gift opens and closes like a notebook, so she can easily take her notes and reminders wherever she goes. The durable, black cover and bungee closure keeps the pad protected, while the foam pad inside the cover keeps her notes intact.
Like all our boards, the thick, tempered glass is non-porous, will not stain or ghost, and is engineered for years of use. Additionally, the board is fitted with elastic bands on the front cover which hold markers and accessories, and a magnetic kickstand allows her to stand the pad when necessary. This Portable Glass Dry-Erase Pad comes with one dry-erase marker.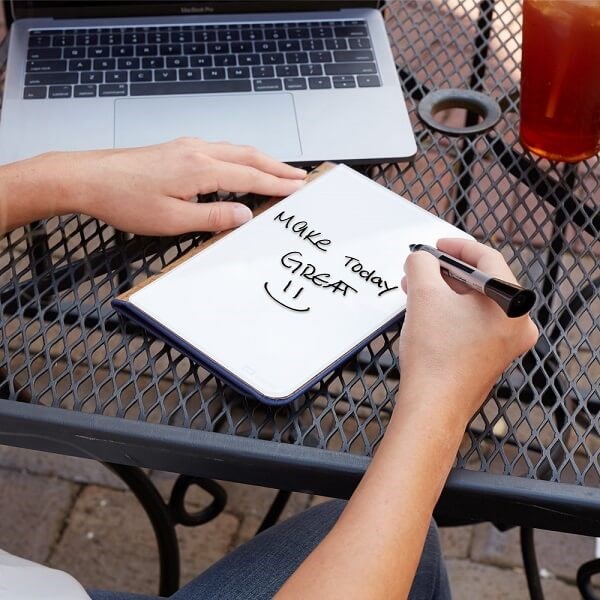 Gifts for Her Big Ideas and Command Centers
Moms are at the heart of the family, and they typically keep track of everything for everyone. These smart gifts help her to communicate with others, and still make space for things that are most meaningful to her.  
This board is named "Brilliance" because its clarity is stunning. Dress up her home or office with a gift she wasn't expecting but will love.
She will love the way her ideas stand out on the vivid white surface. This board makes handwriting clear, and is a great canvas for brainstorming, keeping projects and schedules on track, and more. The smallest Brilliance board is 24" x 18" and our largest is 96" x 48".  
This board is made with high-quality tempered glass which resists scratches and dents, and is non-absorbent, so it erases without staining or ghosting. It is engineered to last for years and comes with a 25-year limited warranty. The board is magnetic and is compatible with high-powered, rare-earth magnets.
The board installs easily and comes with an accessory tray, one Quartet dry-erase marker, and two high-powered magnets.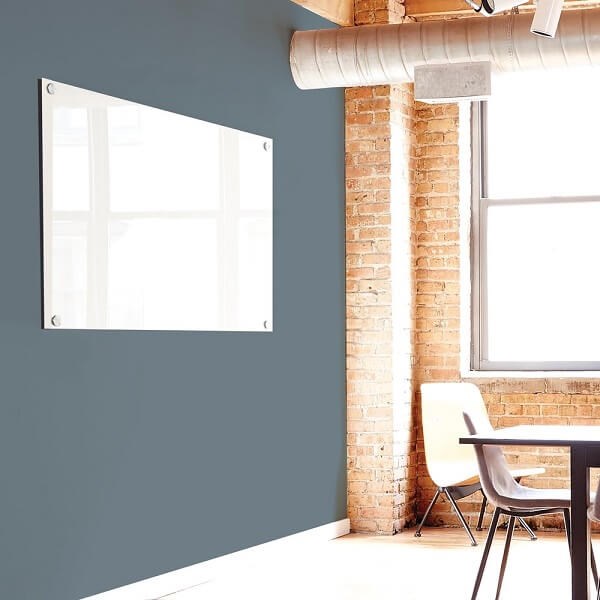 Shop Quartet Brilliance Glass Dry-Erase Boards
This thoughtful, sophisticated Mother's Day gift will act as a command center for home, work, or both. The delicate, minimal design and bright white background will dress up any space.
The 22" x 17" board features a left-hand column for notes and TO-DOs, and one column for each day. She can plan the entire week, organize TO-DOs, plan meals, keep track of ideas and goals–all in one place. The tempered glass resists scratches and dents even in a high-traffic area and comes with one Quartet dry-erase marker, and a 15-year warranty. The board will not stain or ghost, so she can completely erase it every time.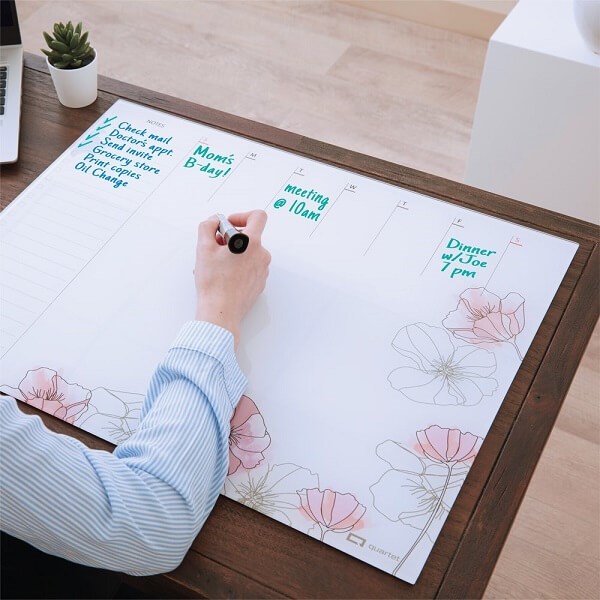 Shop all Calendar and Planning Boards
Mother's Day Gifts that Make Her More Comfortable
Show the mother figure in your life you care with these three essentials which she may not treat herself to but will love and appreciate. 
She will love this Glass Desktop Dry-Erase Easel, a great Mother's Day gift idea to elevate her style at the office or home. She can keep reminders and her schedule on the easel, or post family notes or a holiday party menu for family and friends.
The easel collapses for a comfortable angled writing surface, and the glass resists scratches and is engineered for heavy use. She can use it over and over again without staining or ghosting, and it features a clip to hold a page in place. A secret storage slot can store sticky notes and the easel comes with one dry-erase marker.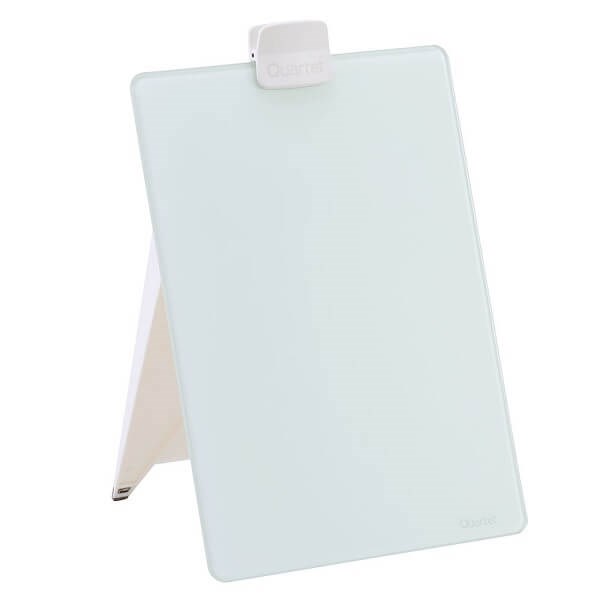 This gorgeous Quartet Glass Chair Mat lets her smoothly shift, turn, or roll her chair as she works. The mat helps prevent scratches and wear from damaging her floor, and the premium tempered glass is transparent, which blends with any décor, and can support up to 1,000 lbs.
This mat comes in two sizes, 36" x 48" and 48" x 60", has rubber feet to keep it in place, and the pencil edges allow her to roll on and off the mat easily. Stylish, durable, and practical, this great gift comes with a 10-year warranty.
If your mom works at a computer at home or office–either for work or leisure–this Mother's Day gift is a big winner. It is important to work in a position that is ergonomically correct.
Her computer screen should be set correctly for her height. She should not be looking up at a screen. The top of her screen should be at eye level so that her focus is 4-5 inches lower than eye level, and the screen ideally should be 24-25 inches from her eyes.
This monitor riser can put the monitor exactly where she needs it for the most comfortable work position. Simply adjust the riser legs to raise her laptop or monitor to eye-level. The riser surface is made of 6 mm tempered glass and measures 10 1/4" x 14". The sturdy, non-skid legs support up to 100 lbs.
Additionally, the 5" x 10" built-in retractable glass dry-erase board helps to declutter her work area. She can keep notes in view while she works and hide them when she is finished. The elegant glass board will not stain or ghost because the surface erases completely every time.
This great gift comes with an accessory tray, one dry-erase marker, and a 5-year warranty.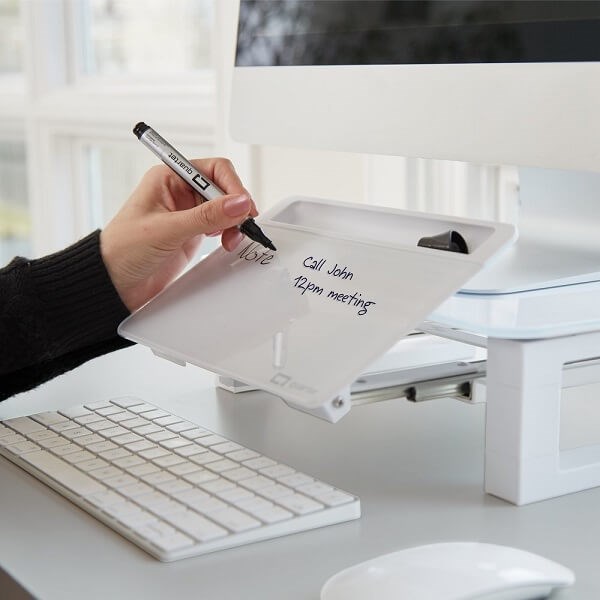 Giftable Accessories! Remember the Details–Like Mom Does
Be sure she has everything she needs to make the most of her new glass board. Quartet Glass Board Dry-Erase Markers make her message distinct, while the Glass Board Magnetic Eraser quickly erases the writing. She will need high-powered magnets to use with her new magnetic glass board, should you choose that gift option.
She can hang invitations, reminders, photos (of you–of course), documents, lists, and more with these rare earth magnets. They are made for use with our magnetic glass boards and are especially strong to hold up to 6 sheets of paper even through the tempered glass. The bright colors add a pop of color, and the ½" circular shape gives the board some extra style.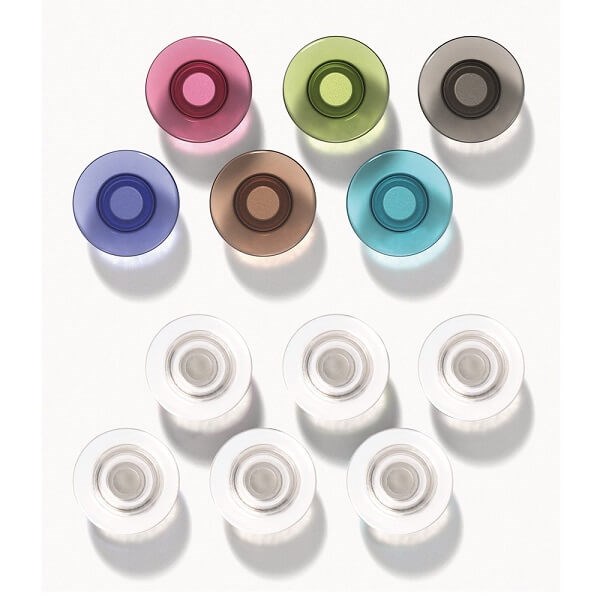 This is an amazing magnetic eraser and will keep her board looking great year after year. The felt pad reverses for a fresh cleaning surface, while a 3rd microfiber surface gives her board an occasional deep clean. The unique shape feels great in her hand and makes it easy for her to erase writing even deep in the corners, as well as erasing just a small spot when necessary.
The eraser is 6 ½" long, and it is magnetic, so she can store it right on the board's surface.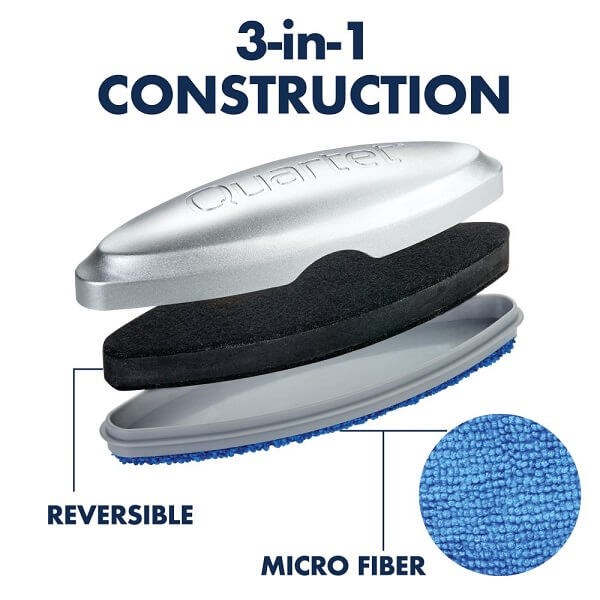 Our premium glass dry-erase markers feature bold color and are the best choice on contemporary glass boards. They deliver unmatched color with their free-flowing liquid ink system, which helps colors stay vivid and bright for the lifetime of the marker.
The smooth ink erases easily, and she won't have the hassle of caked-on ink.
Thick lines make her writing more easily seen and read by others. The bullet point dry erase marker is designed to create broad strokes that clearly convey messages, and these come in bright, bold colors of pink, blue, green, orange, purple and brown.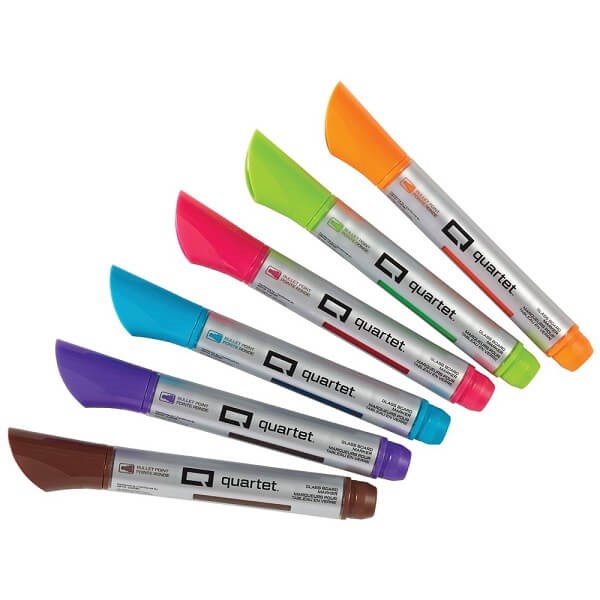 She can create precise lines with these fine point tip markers. Thin lines are great for a variety of projects. Whether used for clear, distinct handwriting or vivid, detailed drawings, the fine point will help her express her message. This classic assortment contains black, blue, red, and green.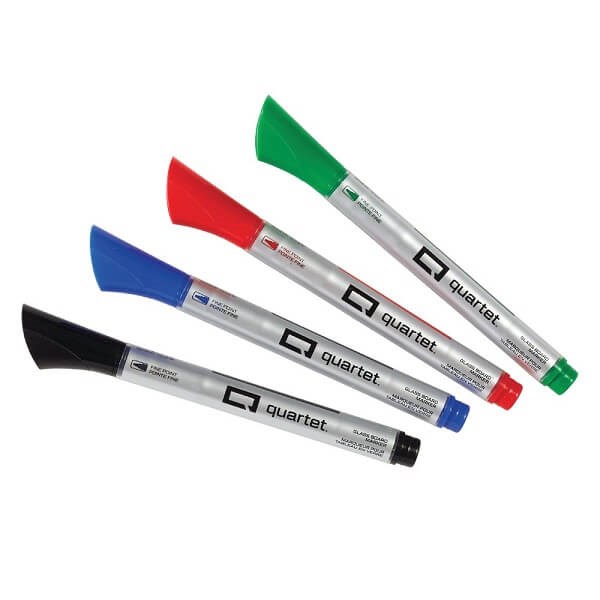 Shop all Dry-Erase Accessories
You Can Feel Confident in the Safety of Our Boards
We take pride in providing durable, reliable products that help create cleaner environments. Many everyday household items like flooring, paint and even new clothing, give off invisible chemicals called volatile organic compounds, or VOCs. Our glass boards recently achieved UL's GREENGUARD Gold certification for fewer chemical emissions, so look for this certification mark when shopping for glass boards.
Choose a Mother's Day Gift That Works for Her  
When you give someone a gift that suits their lifestyle and makes their daily life better, it is always appreciated. Knowing her personal style and what works for her will help you to make a good decision.
So, before you jump online or head to the store to shop for a Mother's Day gift, consider her life stage, lifestyle, activities, what she values, as well as her personality. Get her a gift that will work for her as hard as she works for others.
Be sure to share this post with your friends who might enjoy some Mother's Day gift ideas.