Join us in celebrating a cleaner indoor environment for you, your coworkers, and your family.
After choosing the world's most rigorous standards for third-party chemical emission testing, Quartet products achieved the highest award: The GREENGUARD Gold Certification.
UL is the leading third-party safety science research company, and only products that meet GREENGUARD Certification requirements for "low chemical emissions that contribute to healthier indoor air" can use this mark: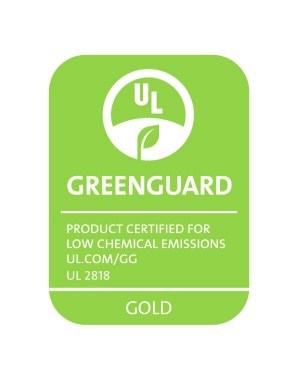 At Quartet, brand integrity is one of our most important values. We proactively sought out the toughest certification available because we want our customers to have confidence in the safety of our products. We know how important environmental issues are, and indoor air is no exception.
GREENGUARD Gold Certification demonstrates that these products meet "health-based criteria" for additional chemicals and volatile organic compounds or VOCs, and therefore are ideal for use in healthcare facilities, homes, and schools–in addition to any workplace.
A New Way to Look at a Clean Indoor Environment
When you consider that most people spend 90 percent of their time indoors* and many indoor items emit chemicals into the air, it's time to pay attention to your indoor environment. In fact, indoor air is usually more polluted than outdoor air.
VOCs or volatile organic compounds, in the form of invisible gasses, are emitted from everyday items such as:
Flooring
Paint
Cleaning supplies
Building materials
Furniture
Copiers and printers
Craft materials, including glues and adhesives
Wax
Cosmetics
In fact, The EPA's Total Exposure Assessment Methodology studies found common organic pollutants to be 2 to 5 times higher inside homes than outside, regardless of whether the homes were located in rural or industrial areas.
Air quality at home, work, school, or any indoor space you visit may be affected by VOCs. 
GREENGUARD Gold Certified Quartet Boards Give You Confidence
With the purchase of Quartet boards, you can feel confident that our GREENGUARD Gold certified products emit fewer chemical emissions. We take pride in providing durable, reliable GREENGUARD Gold Certified products that help create cleaner indoor environments.
Look for Quartet products that bear the GREENGUARD Gold Certification mark when shopping for glass boards and desktop glass products.
*According to the EPA.
Here are our GREENGUARD Gold Certified Products: