Guest Blogger: Workspacery
Creating a functional, productive workspace — no matter whether you work in an office or at home — isn't always as easy and intuitive to design as it sounds. Factors such as clutter and the division of tasks are just a couple of challenges that come with creating the perfect space; especially when you work at home, every little detail of your environment can impact your productivity and stress level while working.
After trying out so many creative solutions for combating these common workspace woes, I fell in love with three Quartet products — including the perfect accessories to match — for the workspace designed to help make life and work a little more functional and a lot more fun!
Glass Desktop Computer Pad
This Glass Pad was a first love for me with the Quartet desktop collection! It's the perfect size, designed to fit in the dead space between your computer and keyboard, is built at a slight angle for easy use, and even has a built-in drawer for keeping the clutter of excess accessories out of sight.
I use this whiteboard exclusively for identifying my weekly priorities, affirmations, and any random notes that I need to jot down throughout the day, from phone calls and reminders that inevitably pop into my head while in the middle of another project. (We've all been there, right?!)
Generally, I love to wipe this board clean at the end of the week and start anew on Monday, but any notes that need to be saved either get transferred to my planner, or I simply snap a photo with my phone to hold onto them for a short time.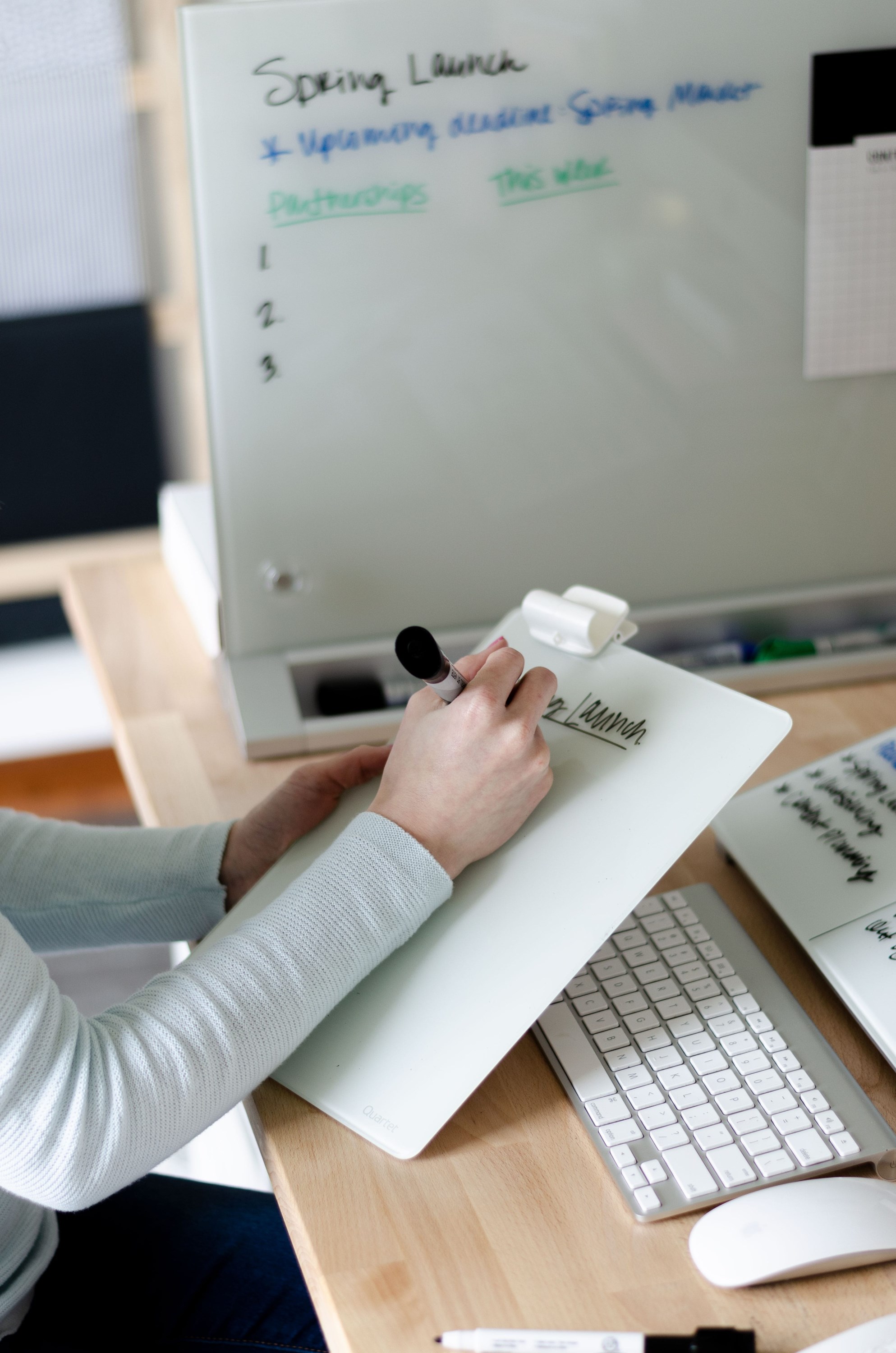 Glass Desktop Easel
Listen: I'd be lying if I said this wasn't my absolutely FAVORITE new workspace tool! The Glass Desktop Easel is a beautifully and smartly-designed 9" x 11" glass whiteboard that can be used in a multitude of ways in your workspace.
Designed to be propped up in an easel format or used flat, this glass easel has been my go-to for project planning, both in and out of the workspace. Because it's so darn portable, carrying this one around the home or office is a breeze and helps me disconnect from my desk whenever necessary.
It also comes with a clip + marker holder — which, I'll admit, I use inversely; the marker is designed to be held in the back of the product, but I love the easy access of keeping it front and center while I'm using the easel. I love treating this one like a portable notepad + clipboard without the waste of excess paper for quick planning and smooth writing.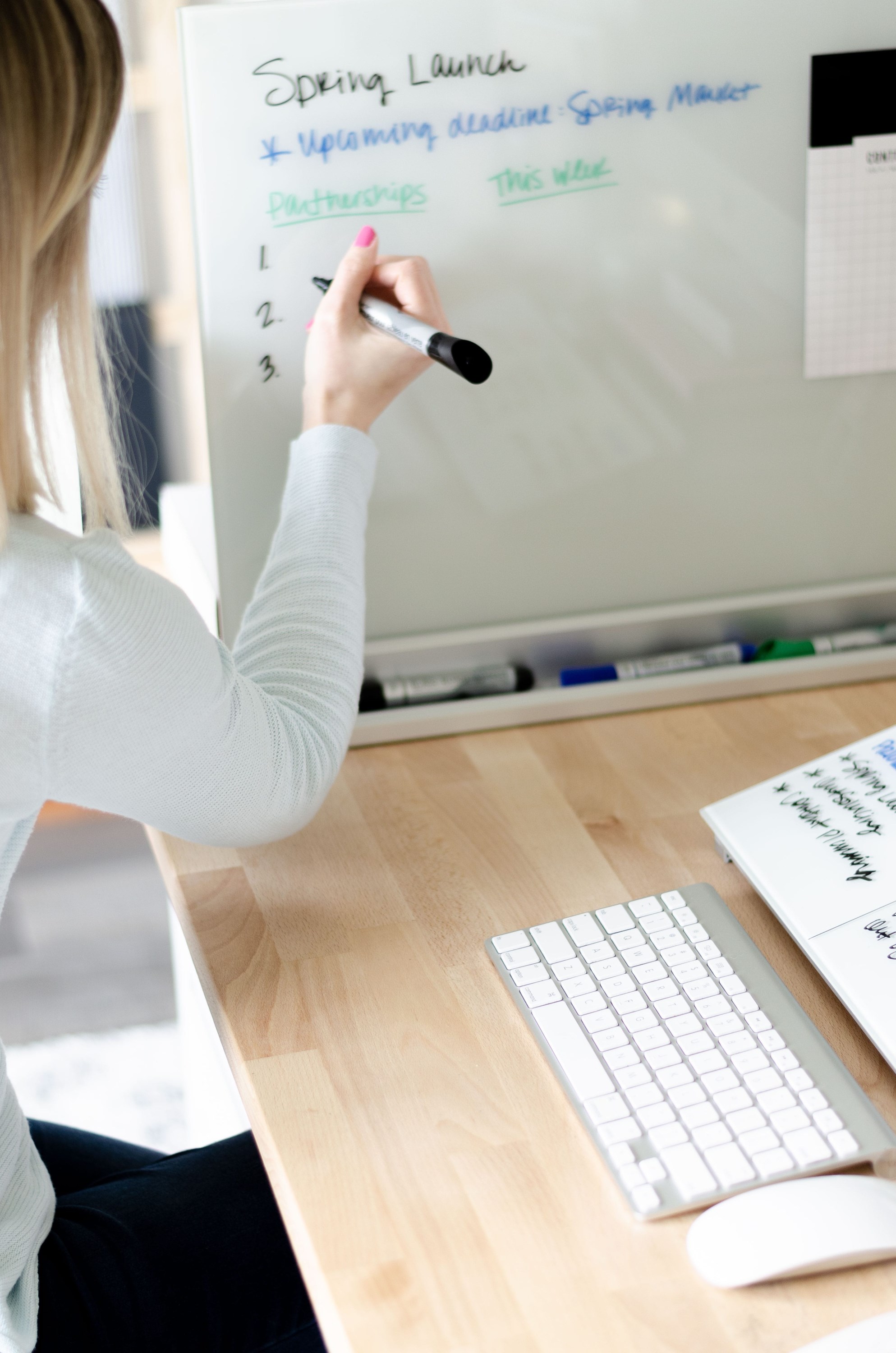 Desktop Magnetic Glass Dry-Erase Panel
The Magnetic Dry-Erase Panel was the most interesting new addition to my desk — and this one proved to be extremely functional and versatile for a multi-tasking workspace!
Because this piece is a little on the heavier side, I've so enjoyed using it as a semi-permanent fixture in my space to create separation of tasks and stations with ease. In my case, I find the separation of computer work and my packaging/fulfillment process to be a hard one to balance, regarding physical space; this Glass Panel not only made it so easy to create some separation between these spaces, but did so in the most functional, sleek way possible!
Each side of the panel features a frameless, glass dry-erase panel that's also magnetic — which makes taking notes for my computer tasks and notes for my order list a breeze. The clean design of the product feels so non-intrusive in my workspace, as well; as someone who appreciates minimizing clutter when possible, this was a huge benefit for me.

Dry-Erase Accessories
Yes, I had to break these down in their category — because friends, the high quality markers and erasers are totally worth the extra buzz! Although all of the glass products come with a starter dry-erase marker, the Dry-Erase Glass Board Markers are something else. I used the Bullet Point markers that come in beautiful, bold colors and are optimized specifically for the glass dry-erase surface. Although I love a good chisel tip at times, these bolder, thicker markers were perfect for taking all the notes and mapping out all the ideas on any of the glass dry-erase products.
And can we talk about the Max Clean Erasers for a minute? Because these dry-erase board erasers are unlike anything I've used; designed with a dual action material, they easily scrub and wipe away all of your notes in one clean wipe — and without smearing, streaks, or stains! The Max Clean eraser is super lightweight, and the Premium version comes with a magnetic holder, which just so happens to work perfectly on the Magnetic Glass Dry-Erase Panel.
I'm seriously obsessed with how all of these tools make workspace notes, planning, and organization a breeze, no matter the size and style of your setup. See more workspace inspiration, including how I use these tools and everything else I'm loving right now, over at @workspacery on Instagram!